Kit Komatsu wheeled excavator PW180-10 base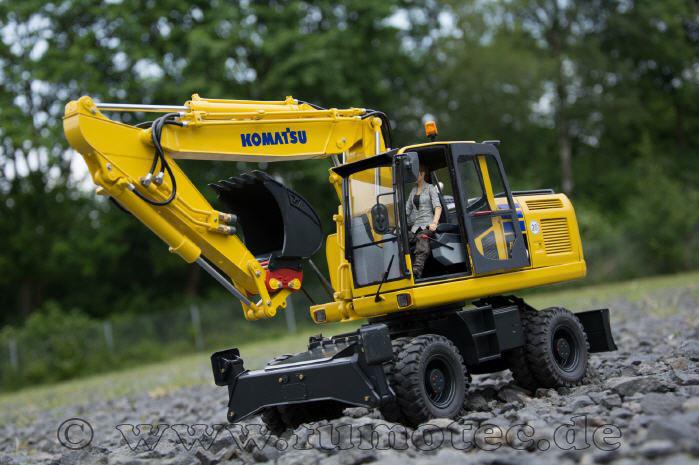 Kit Komatsu wheeled excavator PW180-10 base
7.872,30 €
Incl. 19 % VAT plus shipping
delivery in 3-6 week
INFO: In the tabs NEEDED ACCESSORIES and MODEL ACCESSORIES below, you will find all the necessary parts for building and expanding your personal dream model. After the desired transfer to the shopping cart, you can return to the respective store area via CONTINUE SHOPPING.
The Komatsu PW180-10
A wheeled excavator such as the PW180-10 is ideal for fast travel on construction sites and between job sites, giving it an advantage over excavators with a tracked undercarriage. The Komatsu PW180-10 offers - both as a large scale model, as well as in scale 1:14.5 - excellent stability and maximum lifting forces. This high level of stability can be further increased in the form of two hydraulically controllable claws as outriggers. In addition, a hydraulic scraper blade can be selected from the model accessories, which further increases the already high level of fun.
The PW180-10 combines Fumotec's signature performance and durability with tremendous prototyping fidelity.

Equipment details:

- Adjustable boom with mechanical quick coupler
- 2 additional hydraulic connections on the boom
- Electric and hydraulic rotary joints included in the kit
- Axles with external planetary gears and lockable differential
- Steering axle with oscillating suspension and also hydraulically lockable


Technical data
-Axis distance(wheel center to wheel center): 180mm
-Width: 180mm
-Length incl. shield and claws: 330mm
-Weight: 9.3 kg
Accessories required for operation:
1 piece steering servo (recommended KST - digital servo DS 1509MG)
7 pieces servos for hydraulic valve and differential lock (e.g. Hitec HS 81 or similar)
1 piece controller for slew drive (recommended Servonaut MFX)
1 piece controller for hydraulic pump (e.g. Roxxy 722 or similar)
1 piece controller for traction drive (e.g. Roxxy 725 4D or similar)
1 piece BEC supply for steering servo (output 7,4 Volt min. 5 A)
1 switch module for valve of the axle pendulum lock (12 Volt 2 A)
Receiver with at least 12 channels
Battery Lipo 3S 5000 mAh
0,5 liter hydraulic oil (Fumotec order no. 15/2)
Hydraulic seal fluid (Fumotec Order No. 15/20)
Your Fumotec model should be ready for immediate use or a Fumotec model kit should be shipped to you already painted?
We now offer three attractive service offers that support the desire for a finished and ready-to-use model from the very beginning. With our service, you get once more the possibility to realize your dream model with Fumotec. We are presenting an attractive offer with a unique variety of models for every taste. Orders for construction and painting services are individual custom-made products and therefore excluded from revocation and exchange!