Komatsu PC490-11 kit with 5-way valve block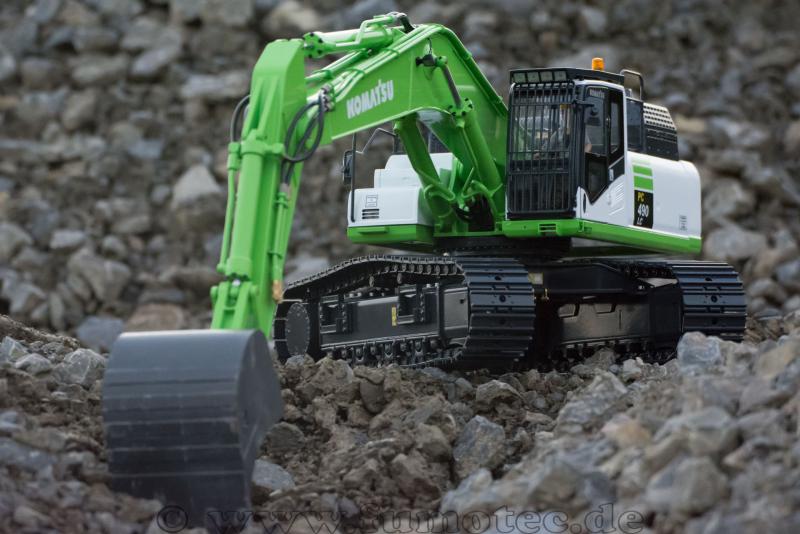 Komatsu PC490-11 kit with 5-way valve block
5.305,60 €
Incl. 19 % VAT plus shipping
delivery in 3-6 week
INFO: In the tabs NEEDED ACCESSORIES and MODEL ACCESSORIES below, you will find all the necessary parts for building and expanding your personal dream model. After the desired transfer to the shopping cart, you can return to the respective store area via CONTINUE SHOPPING.
The Komatsu PC490-11 is a consistent further development of the well-known PC490-10. In addition to many changes in detail, Komatsu has focused on compliance with the EU Stage IV emissions standard. In addition, the PC490-11 offers a significant increase in fuel efficiency, 3G communications, improved operator comfort and new safety features. As in the original, the successor as a model has completely adopted the proven technology of the PC490-10. New are the superstructures, which faithfully reproduce the latest variant of the PC490 in version -11.

The Komatsu PC490-11 kit comes complete with hydraulic components, including a 5-way valve block and two hydraulic auxiliary connections on the stick.
Technical data:
-Length of track drive: 388 mm
-Width of track drive: 252 mm
-Height to upper edge of cabin: 240mm
-Scale: 1:14,5
-Weight 18-20 kg

To get the model ready to run you still need the following components:
-brushless controller for the pump motor (e.g. Robbe Roxxy 722)
-brushless controller for the traction motors (e.g. Robbe Roxxy 725 4D)
-controller for slewing gear (e.g. Servonaut MFX)
-5x servos for the hydraulic valves (e.g. Hitec HS-325 HB or similar)
-receiver (at least 7 channels)
-battery (e.g. Lipo 3S 5000 mAh)
-approx. 0.5l hydraulic oil
-Hydraulic seal fluid and threadlocker

Your Fumotec model should be ready for immediate use or a Fumotec model kit should be shipped to you already painted?
We now offer three attractive service offers that support the desire for a finished and ready-to-use model from the very beginning. With our service you get once more the possibility to realize your dream model with Fumotec. We are presenting an attractive offer with a unique variety of models for every taste. Orders for construction and painting services are individual custom-made products and therefore excluded from revocation and exchange!
The model shown is an example and may include optional accessories. The basic kit is supplied unpainted and not assembled.