Komatsu PC228-11 kit with 7-way valve block
PC228USLC-11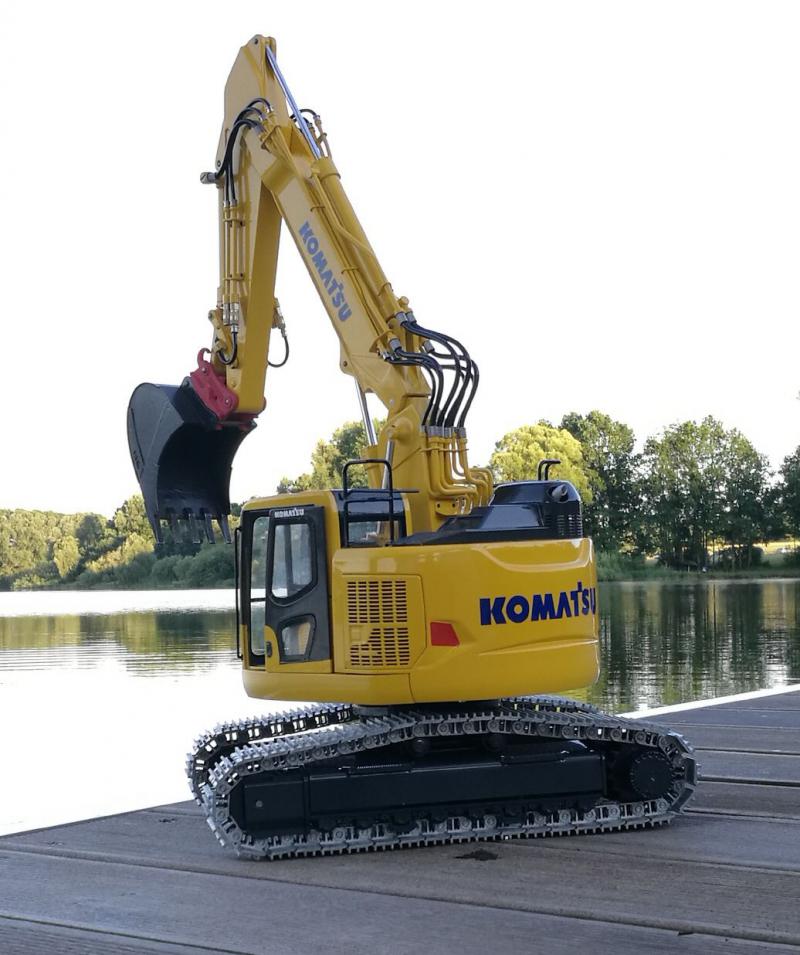 Komatsu PC228-11 kit with 7-way valve block
6.888,30 €
Incl. 19 % VAT plus shipping
delivery in 3-6 week
INFO: In the tabs NEEDED ACCESSORIES and MODEL ACCESSORIES below, you will find all the necessary parts for building and expanding your personal dream model. After the desired transfer to the shopping cart, you can return to the respective store area via CONTINUE SHOPPING.
The Komatsu PC228USLC-11, as a large original, can be used with a very limited swing range thanks to its rounded short tail design.
FUMOTEC is the first manufacturer to offer the model of a short tail excavator in 1:14.5 scale. The kit is equipped with a 7-fold valve block, adjustable boom and a hydraulic rotary feed-through for the optionally available scraper blade. This allows a particularly large number of functions to be combined, which increases the play value enormously.
In addition, the modeler has countless possibilities of addition and expansion through our extensive model accessories. As a new highlight, we offer the FUMOTEC tiltrotator as an attachment.
The kit of the PC228USLC-11 presents itself typical FUMOTEC in massive construction of the undercarriage from welded steel parts. Of course, all track links of the undercarriage are made of metal. This ensures an ideal center of gravity for the model with maximum digging performance. The removable side parts in the undercarriage area take up the idea of the ideal accessibility of its bigger brother PC290LC-11. This design feature makes it easy to reach parts of the track drive and their controllers at any time.
The superstructure of the upper body, whose details have been further enhanced, is produced completely ready for assembly using 3D printing technology. Parts of the trim are fixed with magnets, such as the rear trim.
The hydraulics are optimally matched to the model. This results in optimal sensitivity and performance of the model. If you have any questions, you can always contact us by e-mail, we will immediately take care of your request!
Technical data
Technical data:
-Height to top of cabin:215mm
-Length of track drive: 308mm
-Width of track drive: 212mm
-Weight: 10.7 kg
-Scale 1:14,5
-Pump with flow rate of 700ml/min matched to the model for precise but direct control
-14mm cylinder with 12mm piston and 16mm cylinder for the adjustable boom optimally adapted to the model for maximum digging performance
Required accessories
7 pieces servos for hydraulic valve (e.g. Hitec HS81 or similar)
1 piece controller for slew drive (recommended Servonaut MFX)
1 piece controller for hydraulic pump (e.g. Roxxy 722 or similar)
2 pieces controller for traction drive (e.g. Roxxy 725 4D or similar)
alternatively you can find these components further down in our electronic set
Receiver with at least 12 channels Battery Lipo 3S 5000 mAh
Your Fumotec model should be ready for immediate use or a Fumotec model kit should be shipped to you already painted?
We now offer three attractive service offers that support the desire for a finished and ready-to-use model from the very beginning. With our service you get once more the possibility to realize your dream model with Fumotec. We offer a unique variety of models for every taste. Orders for construction and painting services are individual custom-made products and therefore excluded from revocation and exchange!
The PC228USLC-11 is a kit that must be assembled and painted!