Komatsu D65WX-18 bulldozer kit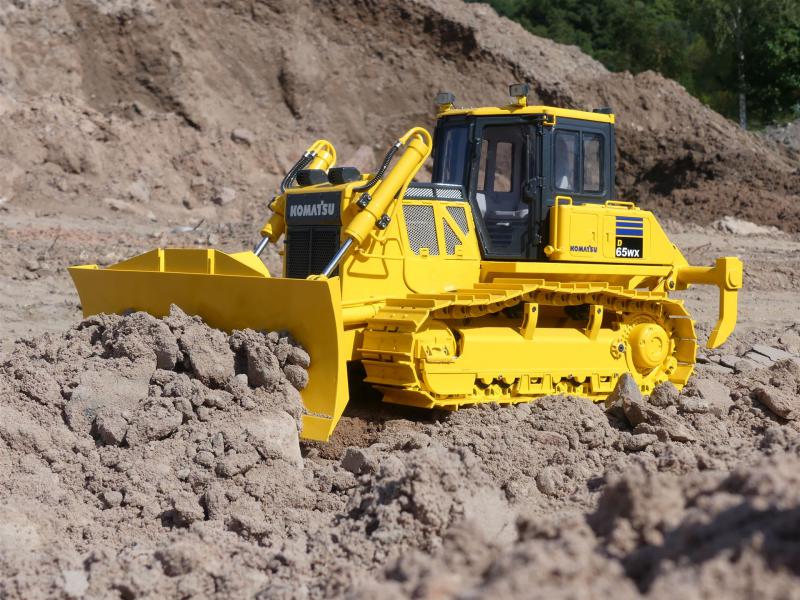 Komatsu D65WX-18 bulldozer kit
Included in the scope of delivery, are all components required for construction (hydraulics, drives, etc. see gallery kit contents), kit without rear ripper
5.290,10 €
Incl. 19 % VAT plus shipping
delivery in 3-6 week
INFO: In the tabsNEEDED ACCESSORIESand MODEL ACCESSORIESbelow, you will find all the necessary parts for building and expanding your personal dream model. After the desired transfer to the shopping cart, you can return to the respective store area via CONTINUE SHOPPING.
The model shown is an example and may include optional special accessories. The basic kit is supplied unpainted and not assembled.
Technical data:
-length 485mm (from the shield to the rear apron).
-Width 218mm
-Height 210mm
-Scale 1:14,5
-Weight 10 kg
Fumotec offers the Komatsu D65WX-18 dozer as a revised version of its predecessor, the D65WX-17, just like the big model. Among the most striking innovations are the new superstructures, which are now completely designed in 3D and bring out the details of the D65WX-18 even better.

But a lot has also changed under the hood. The hydraulic unit has been completely redesigned. It is now much more compact and offers ample space on the RC decks for the remote control components and an optional sound module. A space has been provided directly behind the radiator grille for installation of the speaker. The new D65-18 uses brushless power drives as standard. Please note: Your transmitter must have mixers for control.
To get the model ready to run you still need the following components:
-brushless controller for the pump motor (e.g. Robbe Roxxy 722)
-controller for the drive motors (e.g. Robbe Roxxy 725 4D)
-4x servos for the hydraulic valves (e.g. Hitec HS-5065MG or similar)
-receiver (at least 6-7 channels)
-battery (e.g. Lipo 3S 2400 mAh)
-approx. 0,5l hydraulic oil
-Hydraulic seal fluid and threadlocker

Your Fumotec model should be ready for immediate use or a Fumotec model kit should be shipped to you already painted?
We now offer three attractive service offers that support the desire for a finished and ready-to-use model from the very beginning. With our service, you get once more the possibility to realize your dream model with Fumotec. We are presenting an attractive offer with a unique variety of models for every taste. Orders for construction and painting services are individual custom-made products and therefore excluded from revocation and exchange!